Our textiles are made with a social conscience based on our founding mission of giving back to the community and helping to sustain traditional textile crafts.
These are our partners: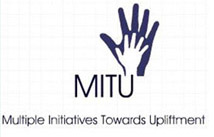 We have partnered with MITU (Multiple Initiatives Towards Upliftment)
They produce all of our memo samples.
We invested in the overlock machines and provided training.
The income they generate from the volume of our memo sampling helps support their initiatives for empowering women.
A happy win-win solution for both of us!
For more information, please visit www.mitufoundation.org
Our latest textile collection, 'Silverado Trail', is inspired by the serene and scenic beauty of Napa Valley. Being aware of the damage and loss incurred in the area due to the 2017 Napa fires, we are donating 5% of our first year of sales from our Napa pattern, to the Community Foundation Sonoma County.
We are donating to their Sonoma County Resilience Fund which was created to address the mid to long-term needs of Sonoma County's fire recovery. With over $13 million raised to date, the Resilience Fund is the largest long-term fire-recovery fund and will be making grants to non-profit organizations over the next 5 years. Donations to the Re-silence Fund will be used across Sonoma Country and will be directed to the areas of greatest needs, with a focus on being nimble and responsive to the changing needs of the community as we begin to recover.
For more information, please visit www.sonomacf.org